FDA Certified Pneumatic diaphragm pumps
The Fluimac range of double diaphragm pumps for food and cosmetics industry is of the highest quality and priced to be extremely competitive.
These air driven pumps, series FOOD Phoenix, are designed to be used to pump fluids in food and cosmetics industries. All fluid contact components are electro-polished AISI 316 or high-grade food quality PTFE.
Fluimac Food Series pumps are able to handle fluids with very high viscosity and temperature up to 95° C.
GM PUMPS installed our unit onto a two-wheeled trolley complete with filter/ regulator. The service and advise from this supplier is second to none. We appreciated the care that was taken to explain all the potential issues we may have with our system in general. The Technical knowledge and assistance is brilliant, we highly recommend Fluimac products and GM Pumps.
Food Product Manufacturer, Western Cape South Africa
Fluimac FOOD FDA Compliant Model PF18 Tri Clamp 3/4″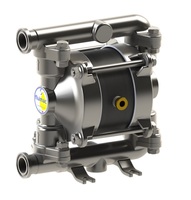 Connections TRI-CLAMP 3/4″
Max flow-rate 20 lt/min
Air connection 6 mm
Max head 80 m
Self-priming capacity 6 m
Diameter of passing solids 3 mm
Max pressure 8 bar
Materials SS Electro-polished
Noise Level 65 dB
Max viscosity 12000 cps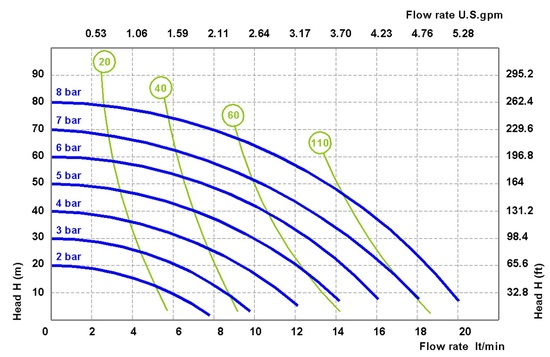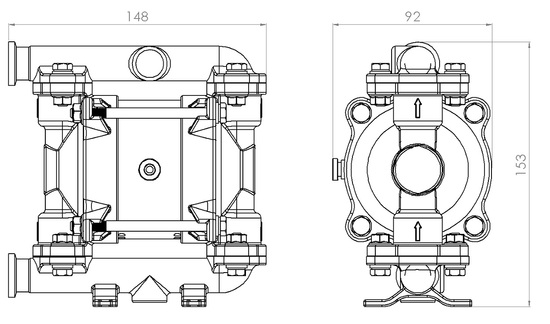 Fluimac FOOD FDA Compliant Model PF30 Tri Clamp 1″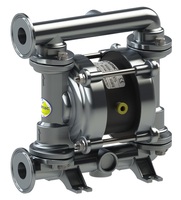 Connessioni TRI-CLAMP 1″
Portata max. 35 lt/min
Attacco aria 6 mm
Prevalenza max. 80 m
Capacità di aspirazione 5 m
Passaggio solidi 3.5 mm
Pressione Max. 8 bar
Materiali di esecuzione SS Elettro-lucidato
Rumorosità 65 dB
Viscosità max 15000 cps

Food Grade (FDA) diaphragm pumps
Equipment used in the production of foods or beverages for human consumption is generally required to have a specific sanitary standard. Typically when it comes to pumps, this means that there is a standard applied to the materials of construction as well as the finish of those materials. (For example 316 stainless steel with a high polished finish)
This standard in the United States of America is governed by the FDA (Food and Drug Administration), a standard which has been adopted by most countries throughout the world.
The FDA is responsible for Protecting public health by assuring that foods (except for meat from livestock, poultry, and some egg products which are regulated by the U.S. Department of Agriculture) are safe, wholesome, sanitary and properly labeled; ensuring that human and veterinary drugs, and vaccines and other biological products and medical devices intended for human use are safe and effective
For more detailed information please go to the following website:- https://www.fda.gov/AboutFDA/Transparency/Basics/ucm194879.htm
Fluimac produces and stocks a complete range of FDA Food Grade Diaphragm Pumps in polished stainless steel are readily available from Fluimac in South Africa. (Page under Construction) Please call the sales team on 031 777 1629 or email sales@fluimacsa.com
Fluimac FOOD FDA Compliant Model PF50 Tri Clamp 1″
Fluimac FOOD FDA Compliant Model PF100 Tri Clamp 1″
Fluimac FOOD FDA Compliant Model PF160 Tri Clamp 11/2″